Podcast: Play in new window | Download
Subscribe: Apple Podcasts | Android | Email | Google Podcasts | Stitcher | TuneIn | Spotify | RSS
On this episode of The Vonu Podcast, Jason Boothe and Shane take another dive into VonuLife, March 1973 to examine a couple articles authored by Rayo. The first is titled "Troglodyte Community," and the second is, "Smumans: The Super Hobos."
---
---
In more detail, we once again discuss the efficacy and advantages of temporary autonomous zones (TAZs) over permanent autonomous zones (PAZs). That said, Rayo does propose a possible solution for having a community centered around PAZ, with the objective of overcoming the obstacle of isolation.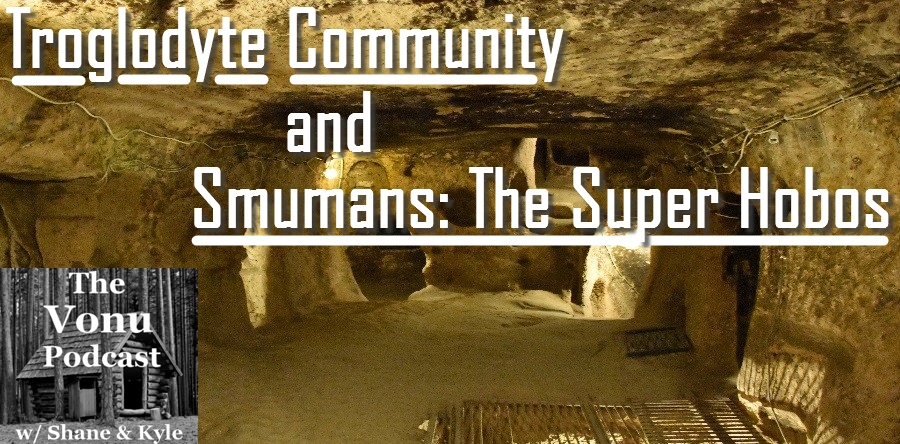 Furthermore, in the second article, Rayo discusses smumans (seclusion and mobility using multiplicity), the super hobos. He outlines the benefits of having multiple vonu home bases for different purposes, different seasons, and different activities. Its discussed in the context of wilderness vonu, yet it could be applied to vonuing in cities or even other vonu lifestyles, such as minimalist sailboating, etc.
Can you think of any other applications or possibilities? Let us know in the comments below!
Another big thanks to Steve for supporting us on Patreon!
Share it around and consider financially supporting the podcast–we need YOUR help to keep this podcast going. You can become a patron on Patreon for exclusive content by clicking the image below. You can also click here to donate via PayPal, Bitcoin, and altcoins.