Podcast: Play in new window | Download
Subscribe: Apple Podcasts | Android | Email | Google Podcasts | Stitcher | TuneIn | Spotify | RSS
Technology is a double-edged sword; it can be used to build and maintain physical/digital Second Realms in pursuance of freedom and autonomy, but it can also be a dangerous tool in the hands of tyrants. Thankfully, crypto-anarchists are far better at technology than your average government agent, which puts us Second Realmers at a huge advantage.
Herein, Kyle Rearden and I cover The Blessings of Technology section from Smuggler and XYZ's book, Second Realm: Book on Strategy.
More specifically, we discuss their proposals of:
Anonymized remote-controlled access points
Anonymized remote-controlled defense systems
The role and importance of anonymous communication
Dark-net systems, encryption, and crypto-currencies in building and maintaining Second Realms
And we go through a thought exercise as to how the bludiges could go about raiding a Second Realm, and how technology could be used to defend it, keeping the occupants out of harms way.
Technology already is playing and will play a huge role in a freer future. It's important to become familiar with the options and possibilities available to freedom pioneers.
All resources available here for FREE!
---
Get the paperback book from Liberty Under Attack Publications!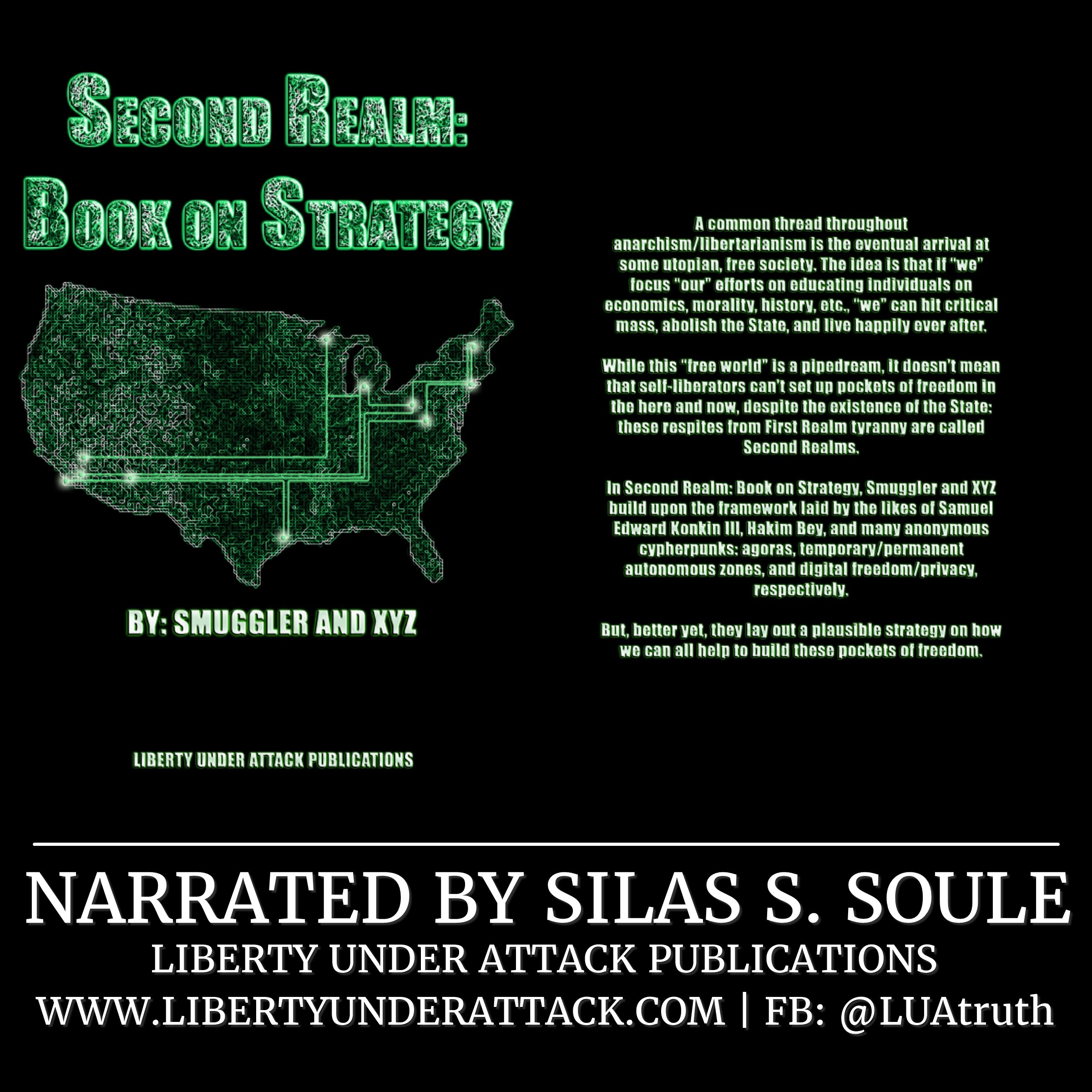 ---
---
Check out Liberty Under Attack Publications for books, privacy tools, & apothecary items to aid you in your pursuit of self-liberation, or if you're an author looking for a liberty-focused publisher!

BUILDING THE AGORA
TheLibertyForge.com
AnarchoCoffee.com
Enemy of The State's Dank Pod Stash
Liberty Under Attack Publications
Luv Java High Performance CBD-Infused Butter Coffee
Join the Road to Anarchy!
Building The Agora is a collaborative effort to promote businesses and podcasts, connecting us to each other's audience. If you're interested in helping to build the agora, please email: [email protected].