Podcast: Play in new window | Download
Subscribe: Apple Podcasts | Android | Email | Google Podcasts | Stitcher | TuneIn | Spotify | RSS
In the near future, freedom pioneers and freedom seekers will have protected temporary autonomous zones to exercise their autonomy to the fullest, without the risk or threat of First Realm/bludgie intervention (some of these exist today, actually). Having these Second Realms will be a giant leap forward for the cause of personal autonomy and freedom, but it's important to not become complacent:
---
Get the paperback book from Liberty Under Attack Publications!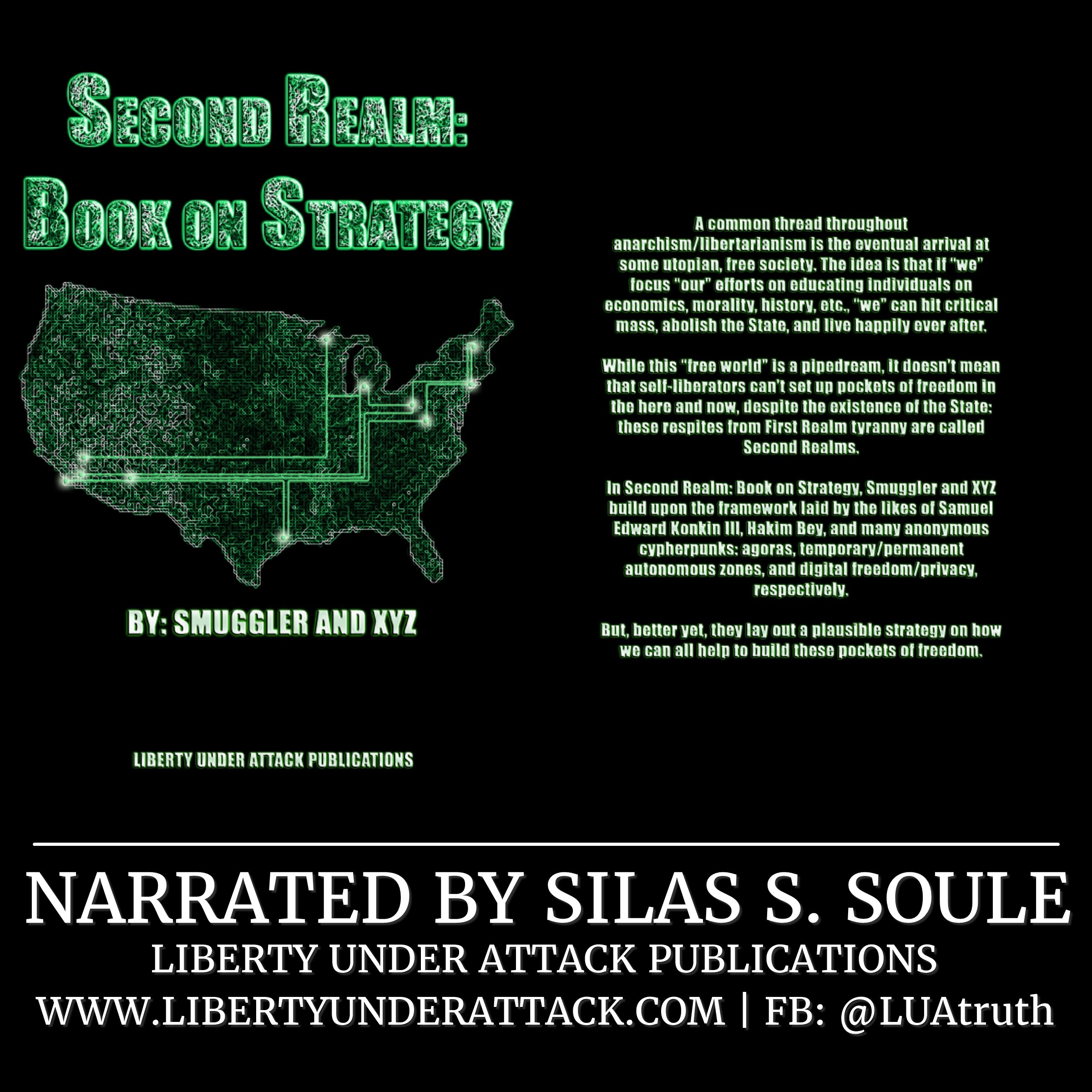 ---
Even if "we" are living free, the First Realm is still out there and is sternly against the existence of "our" free enclaves.
Therefore, it's crucially important to have strategies to minimize risk and personal harm if any of "our" people are swept up by the government agents of the First Realm: in the Second Realm, this is known as tradecraft, or the art of implementing the objectives of "Need to Know."
What is tradecraft? How can it be applied? How does it differ from security culture, if at all? What are some potential downsides to a society/culture practicing tradecraft and how they can be avoided?
In this classic episode of LUA Radio, now Vonu Podcast, Kyle Rearden and I cover that and much more.
Show Guide:
Defining tradecraft
Drawing a comparison to security culture
Tradecraft: the "how" of the Second Realm
A few thoughts on securing trade
The need for Second Realm justice and enforcement systems
"True" names and the use of pseudonyms
Being free means having the freedom to re-invent yourself
Other tradecraft principles
The importance of secrets among individuals; the role of secrets in keeping the Second Realm safe and secure
Kyle and I exchange relevant, real world examples
Design systems/trading practices that limit possibilities for coercion/theft
The balance between tradecraft vs. the building of a Second Realm culture/social cohesion
A solution is specialization (i.e. proxy merchants, businesses that setup trading rooms, etc.).
Using technology to creatively implement/practice tradecraft
The role of tradecraft in other human institutions (justice/arbitration, financial systems, etc.)
An excerpt on Second Realm "trading tables"
Tradecraft is an extension of vonu
Two ways to get started in tradecraft by Kyle
All resources available here for FREE!
---
Check out Liberty Under Attack Publications for books, privacy tools, & apothecary items to aid you in your pursuit of self-liberation, or if you're an author looking for a liberty-focused publisher!

BUILDING THE AGORA
TheLibertyForge.com
AnarchoCoffee.com
Enemy of The State's Dank Pod Stash
Liberty Under Attack Publications
Luv Java High Performance CBD-Infused Butter Coffee
Join the Road to Anarchy!
Building The Agora is a collaborative effort to promote businesses and podcasts, connecting us to each other's audience. If you're interested in helping to build the agora, please email: [email protected].