One of my favorite features of the old vonu publications/zines were the letters and reports submitted by readers. They are individual case studies of lifestyles in pursuance of self-liberation, and also present a sort of glimpse into the mind of a radical self-liberator. Possibly most importantly, they are examples of a freer life, a freer future, outside of the control of the State and the servile society.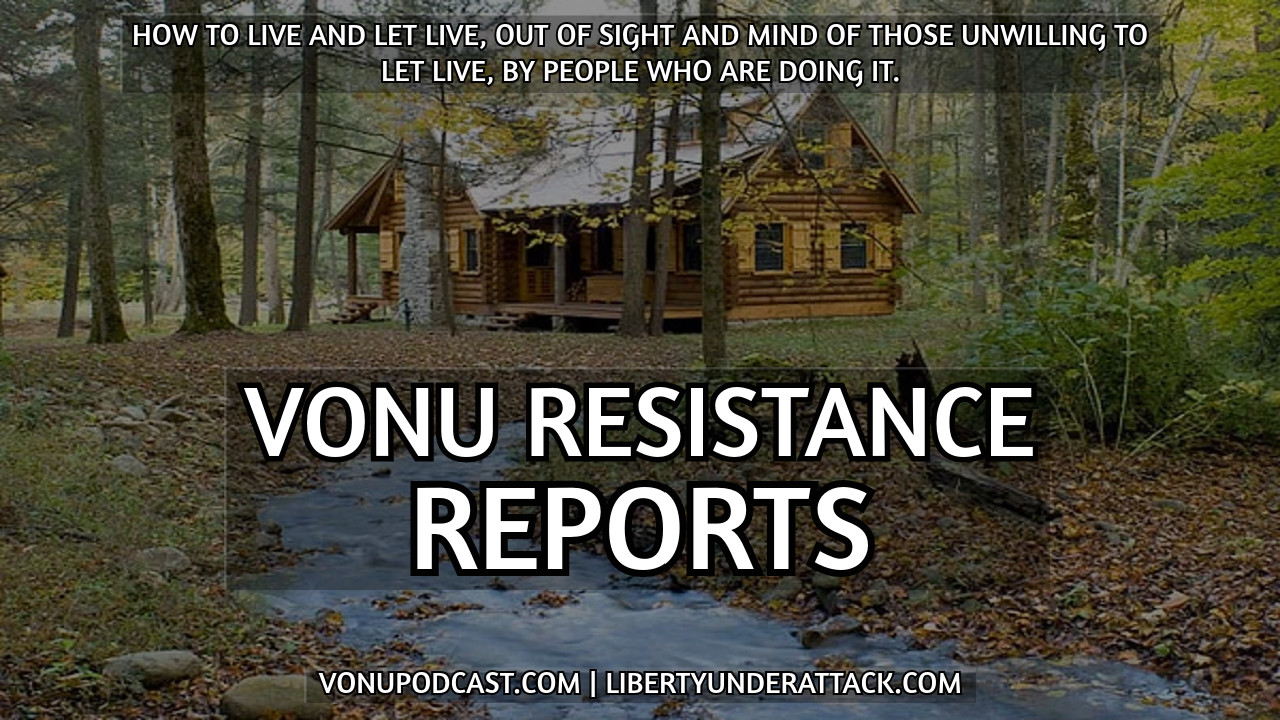 And if there's something that's desperately needed in these modern times, it's a little hope, a little light of freedom peeking through the seemingly all-encompassing darkness of totalitarianism. 
But first, let me briefly define and summarize vonu, and who better to explain it than our posthumous mentor and founder of the freedom strategy, Rayo. This is from Vonu: Book 2, Letters from Rayo, which is available for free download here, or in paperback format via Liberty Under Attack Publications. It reads:
"'Vonu' is a coined word meaning invulnerability to coercion – coercion being physical attack by a volitional being against another volitional being or his non-coercively-acquired property. I distinguish 'vonu' from 'liberty' – exemption from coercion. Liberty depends on other people; it exists only to the extent that those capable of coercion abstain from it. 

…

Coercion, especially the institutionalized forms – war & regimentation, is one of the major problems of mankind. Practically all past efforts at solution have been directed toward LIBERTY – trying to change the behavior of large numbers of OTHER people. There have been countless attempts to reform governments, take over governments, destroy governments, & manipulate 'public opinion.' You know the results.  

…

I believe that enduring peace & freedom can be realized only through vonu – by reducing vulnerability to coercion. Vonu will most likely come gradually, primarily through lifestyle changes by individuals & small groups. But vonu is not necessarily only for a few. Vonu will expand as far as there are people willing to do. 
So, what I'm hoping to reignite is a project I've titled Vonu Resistance Reports. As I discussed in a previous video, I think it's important to highlight examples of resistance that don't require direct confrontation with those who falsely imagine themselves to be our rulers.
As an example, here's one that was submitted to Rayo by a pseudonymous individual, John Freeman, from the publication, Going Mobile:
"While automobiles were not designed for spending any "sack out" time in, they certainly can do the job in a pinch. Over the years I have spent a lot of time living out of various cars & it certainly saved me a lot of funds that otherwise would have kept me longer at the distasteful working habit. I recall a 54 Chevy that had the steel bracing back of the rear seat removed with a little "keep the head level" padding & the seat out. The trunk & back seat area combined allowed plenty of room…Later I acquired a little Citroen 2-CV (18 HP) that had a rear seat that simply came out. I used this all over the West for a number of years. By removing the backing to the front seats, I & a mate had no trouble using the front seat area for the lower body. 

…

I recall one memorable trip when I took a week's trip with 2 adults & 3 little kids in this tiny rig. With all the seats removed, it was like a bed, & even in the freezing weather it was more than warm from the body heat. 

 …

After being run off a Mexican beach a couple of years ago, I & a girl & 2 kids wound up in the town in this same rig. The beauty of this auto camping is that you usually attract no attention. I've spent years in various motor homes & buses & every once in a while I have gotten hassled in some strange town. I often overcome this by simply picking out a back street with a few houses on it & then explain what I'm doing to the persons in the home in back of where we park. People are always glad to aid a decent appearing nomad. 

…

Once, while hitchhiking across the States in the dead of winter I managed to find enough small town auto back seats to survive in on my trek – yet I hate being cramped & curled up, & any car I own I alter enough to get a good nights sleep in. I'm not the only one. During a hard period in the '60s I recall several down on their $ & luck families who lived out of their converted cars in Mecca Canyon, a little haul east of Palm Springs. 

…

At this place in time, most persons are too spoiled & warped in vacuum brained values to camp in cars. Yet to the true Vonuer, it's a great inconspicuous on the road shelter."
So, the idea is this: that our vonuan audience of self-liberators (you) shoot us an email, send us message on social media, link a blog post on your website, produce a video/podcast, or whatever you're comfortable with (submission options below).
In this correspondence, please discuss your vonu lifestyle, experiences, views/opinions on what's transpiring, and maybe a little about yourself as well, whatever you're comfortable with revealing. Although, if there's any doubt, leave it out.
I will then release a collection of them in video and podcast format, with personally identifiable information redacted – for example, I would just say "Alex from Australia," or whatever you specify in your correspondence.
I really hope you consider helping me with this project, as I think it's extremely timely and important. Let's show people that freedom still exists, and that a life of servitude is merely optional.
Let's give folks some much needed hope.
SUBMISSION OPTIONS:
---
Check out Liberty Under Attack Publications for books, privacy tools, & apothecary items to aid you in your pursuit of self-liberation, or if you're an author looking for a liberty-focused publisher!