Podcast: Play in new window | Download
Subscribe: Apple Podcasts | Android | Email | Google Podcasts | Stitcher | TuneIn | Spotify | RSS
On this episode of The Vonu Podcast, we begin a new miniseries on van nomadism, the first vonu strategy Rayo pursued back in the 1960s. To cover the philosophy behind it and case studies of practitioners in one shot, we decided to introduce this miniseries by playing the audio from a really terrific documentary called Without Bound.
---
---
Not much is lost without the video, but I would still recommend taking some time to watch it so you can see their mobile homes…and, if you're like me, this documentary is enough for you to start making plans to hit the road as soon as possible.
If not, what's stopping you from making a lifestyle change in pursuance of personal freedom? The answer to that question is more important than you may realize.
Please enjoy, share, and consider financially supporting the podcast–we need YOUR help to keep this podcast going. You can become a patron on Patreon for exclusive content by clicking the image below. You can also click here to donate via PayPal, Bitcoin, and altcoins.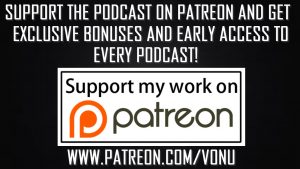 Show Notes: