Podcast: Play in new window | Download
Subscribe: Apple Podcasts | Android | Email | Google Podcasts | Stitcher | TuneIn | Spotify | RSS
On this episode of The Vonu Podcast, you'll hear a short Vonu Resistance Report, originally submitted to/published in the October 28th, 1970 edition of Ocean Living.
(This article is a part of the complete publication, Ocean Freedom Notes/Ocean Living (1967-1980), which will be available via Liberty Under Attack Publications in the next couple of days.)
---
THE SPIRIT OF LAISSEZ-FAIRE
One evening in February, this winter, I leapt ashore after our oil tanker docked in Providence, Rhode Island, ran to the pay phone, called Seafarer yachts in Huntington, Long Island, and ordered a Seafarer 26' sailboat hull. That phone call was the climax of my winter's work and planning, and the beginning of Laissez-Faire.
I continued sailing on Atlantic tankers till April 20, when I took a long awaited 6 week vacation. The hull was delivered to my backyard on the 26th of April. That was the day I had lived for all winter. While standing watches with frozen feet, blasted by the Atlantic's winter gales, through the seemingly endless days of scraping and painting, through 6 months of straining to hold my mind back to the routine of shipboard life, that was the vision which made it possible for me.
I went to work with a will. What a joy it was to be working for myself, to be directly responsible for all aspects of the project. Bulkheads and deck beams were fitted and glassed in. Twenty-five hundred pounds of lead was poured in nine sections for inside ballast. Plywood decks were bolted, glassed, glued, nailed and screwed to the frames. The cabin trunk went on and cabin top beams were fitted. The mast partners of 2 ¼" white oak were bolted in with four 21" bolts. A living larch tree was selected and cut for a mast.
By the time I had completed that much of her, it was time to return to work on Atlantic tankers again, and that's where I am now. I'll work till the middle of August, quit the job, and return home to finish her. I hope to depart for Florida via the intracoastal waterway no later than November. After that, the world.
So far, the costs have added up this way: $1150 for the bare fiberglass hull, approximately $700 for options and transportation to my home, and about $900 for materials so far. I hope to finish her, equip her, provision her, and launch her, for another $1500.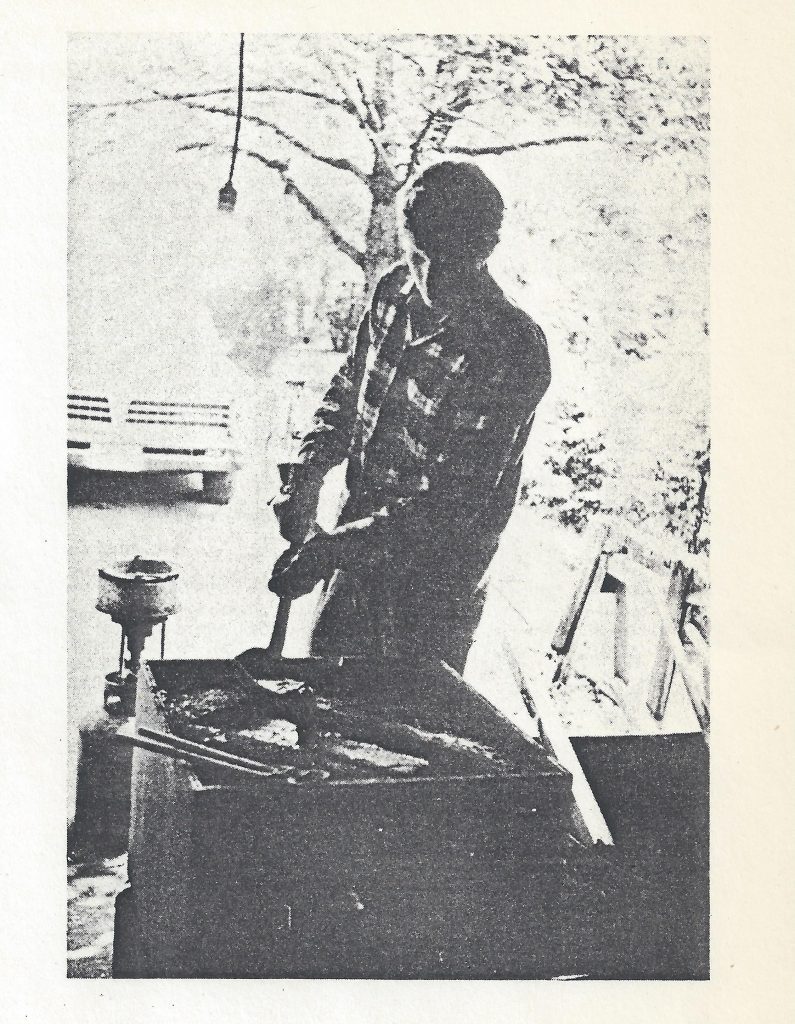 I'm building and rigging her with single handled sailing and living in mind. The rig will be a 250 square foot Hong Kong junk style mainsail. The mast will stand with no side stays and one forestay, on which various jibs can be set to balance the large mainsail. She will have a wind-vane self-steering setup. I plan to lead all running rigging to cleats near the main hatch, so in rough weather I can sail her from inside the cabin with just my head up through the hatch, which will be protected by a dodger.
The interior shall have one bunk, (with floor space for visitors), a large desk-chart table with a comfortable sea, a head and a galley, and lots of stowage space. All the area forward of the mast will be used for stowage, as will the space beneath the cockpit.
This project has had many advantages and favorable side effects for me. Ever since I quit college last summer and decided to undertake it, I have the experience of living and working for a purpose. This was new to me. I like it very much. I cannot conceive of ever living without a purpose and goals in the future.
Before this, I had read all of Ayn Rand and much general libertarianism with great enthusiasm. But, now that I've got a purposeful direction in my own life, I see all these ideas in a new light: that of living them, not just liking them. That, to me, is an invaluable improvement. I have found an area where I have an extreme degree of affinity with reality. What more can be said?
I decided to name her the Laissez Faire many months ago, when I decided on a life of the same nature. This is what I see small boat living as making imminently possible. I'll have a snug home capable of easy, economical mobility. A redoubt, a fairly self-sufficient base from which I can view and visit the world of men as briefly or as intimately as I wish. I can partake of all that coastal civilization has to offer, and when it becomes too little, or the price to high, I can hoist my sails and search for the new and better. I will support myself with intermittent work, and by my own writing and painting.
What I feel now is the joy of impending freedom, with no barriers, no limits, with my life in my own hands and my success coming from my own sight and thought and action. –DAVID C. ENGLEHART
---