Podcast: Play in new window | Download
Subscribe: Apple Podcasts | Android | Email | Google Podcasts | Stitcher | TuneIn | Spotify | RSS
On this episode of The Vonu Podcast, we continue our crypto-anarchism series with a discussion on blockchain technology. Herein:
---
---
We get an update on Kyle and I's current situations;
We run through some definitions;
We discuss various uses for pursuing financial independence, such as mining, speculation, and long-term holding;
We discuss blockchain's role in facilitating the creation of vonu minicultures and Second Realms;
We talk about mesh networking's current limitations;
We'll tell you why using these tools makes you more invulnerable to coercion;
And more.
Please enjoy, share, and consider financially supporting the podcast–we need YOUR help to keep this podcast going. You can become a patron on Patreon for exclusive content by clicking the image below. You can also click here to donate via PayPal, Bitcoin, and altcoins.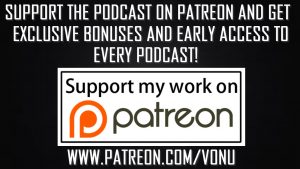 Show Notes:
TVP #20: Crypto-Anarchism – The Marriage of Security Culture & Vonu

(Intro Clip) Andreas Antonopoulos explains why no government can attack Bitcoin.