Podcast: Play in new window | Download
Subscribe: Apple Podcasts | Android | Email | Google Podcasts | Stitcher | TuneIn | Spotify | RSS
The disaster known as Hurricane Harvey has wrecked the Texas Gulf Coast and has left a large number of residents stranded in their homes awaiting rescue by government agents or private persons. Many of these folks, not being able to leave their homes, likely have little to no food storage setup in place; some may be able to survive fine for a week or so with what they have on hand, others for mere days.
As the saying goes, an ounce of prevention is worth a pound of cure and these individuals would have benefited from preparing for such disasters beforehand. Luckily, Rayo, his freemate, and other vonuans have already laid the framework; it's a little late for the Houston residents, but its not too late for you.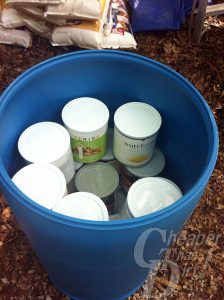 In this episode of The Vonu Podcast, Kyle and Shane discuss food storage in extreme detail; we cover Rayo and Haelen's diet, their storage system, how they preserve their food without refrigeration and outdoors, suggestions on what food stores best, other considerations, and much more.
After listening to this podcast, you will be well on your way to food security–next time a natural disaster or unexpected event happens, you will rest assured knowing you have sustenance on hand for long periods of time.
Please enjoy, share, and consider financially supporting the podcast–we need YOUR help to keep this podcast going. You can become a patron on Patreon for exclusive content by clicking the image below. You can also click here to donate via PayPal, Bitcoin, and altcoins.